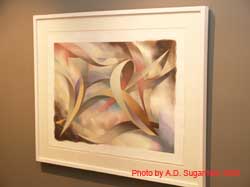 Astrolavos artlife

Astrolavos artlife art gallery opened in January of 2002. Its prime objective is to create a multiform space at the heart of Athens that will cover artistic trends for a broad audience and at the same time to bring the work of art closer to our daily life.

A pleasant space moulded especially to host at the ground floor a small 'flexible' gallery and a spacious art shop. The basement is a large space where we host a variety of works of art by young and older artists.
At the ground floor gallery we organize art exhibitions by famous artists, while at the various sections of the art shop there is a variety of small size paintings and other art objects for all tastes and needs. Close to the art shop we often organize more specialized exhibitions with a wide interest. In this space there are also some 'corners' like that of the artistic marriage or that of the art book.


Click Here to See Movie Clip
Alexandros www.apollotemple.com


This Exhibition Has No Affiliation Whatsoever With the ECCD. The Exhibition was held during Mr. Noda's stay in Greece for the dedication of the Apollo's Mirror Sculpture.
Tuesday, 1 March 2005 - 26 March 2005
Athens

On Tuesday the 1st of March opened at the Art Gallery "ASTROLAVOS artlife" (Irodotou 11, Kolonaki tel: 210 7221200, 4, fax: 210 7221304, www.astrolavos.gr) an exhibition of collages, small sculptures and handmade silk screens by the Japanese artist Masaaki Noda.
Remembrances and references to the Japanese art appear through the shape, the rhythm and the color of his entire artistic work.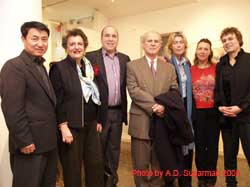 His small sculpture constructions, mainly models of big sculptures made from stainless steel, are possessed by simplicity. The synthetic search is based mostly in motion and rhythm and it is expressed through succession and confrontations of cylindrical triangles and curve surfaces with pointed endings. The rhythmic evolution of a continuous spiral movement comes easy from the controversy between emptiness and the curve cross sections.

The handmade silk screens that came from the use of many different tambours of soft colors carry successfully those sculptural symbolisms.

The uplift, the fall, the dematerialization are wonderful presented from Noda's colorful synthetic language and refer to a perpetual motion.
Duration of exhibition: until 26th of March.